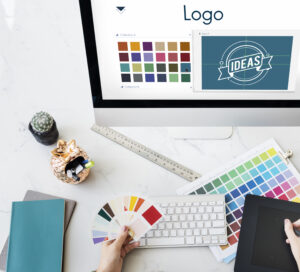 Starting up a new business? Or perhaps you simply want to look professional on social media and need digital graphics for your website. Its hard to imaging what you might need to get going. A good graphic designer should be able to point you in the right direction for all that you need. When clients come to me and ask what they should get done, I already know in my own head what is needed. There is a suite of logos required in a variety of file formats for online and print, as well as different sizes for social media graphics. After that, in order to appear more cohesive, you should consider designing stationery like business cards, letterheads, comp slips, as well as quotes and invoices designed on Word or something you can edit. If you are a service pitching for work, you need to consider a suite of Powerpoint presentation slides. My advice would be to get a package cost from your designer based on all these at one time. This saves you having to come back at a later stage and asking for a project to be completed, this means you can conserve resources from the get go.
Recently I had a client come to me with a logo she said she had designed and was "80% happy with". I don't know what designer would leave their client 80% happy. I was annoyed at the designer that did this and also, so completely frustrated. I took on the project to try guide the client in the right way and to show that you can get a graphic designer interested in their style. I was hoping to offer an alternative she would jump at and be more than 100% happy. I will say that the client holds her hands up and says the graphic designer supplied her with what she asked for from her drawings. And often thats ok. But this client wanted more. This client was paying for the graphic design services and experience. What she wanted was the designer to come back and improve on the idea. Show where their ideas came from and their thinking. To me this is so honestly a basic response. Graphic designers see logos, charge through the nose, provide what they're asked for and nothing else. A graphic designer should, in my opinion, guide the client to the highest quality brief response. The client should be in love with their logo.
When designing a logo, you should show you have thought about the logo, you have thought about the client. You have researched their style and expectations and then, you should exceed those expectations. There are no exceptions to this.
Designing logos is not for the faint hearted but being lazy is not acceptable. It is not right to leave a client hanging like that. There should be no bad taste in the mouth. I know its a hard job on days but being a creative, you have to do your job. They are paying for your experience, expertise and graphic design is actually at the bottom of a list of skills you use designing logos. I'm angry for my client, I am disappointed by the first graphic designers response but ultimately the logo was fixed, it was brought to a final design stage and the client is now very very happy. I have standards for our industry and I want to say we are all trying to do our best. But sometimes, do better than best.
If you have a logo you are not sure about and you want advice, I am happy to help get your the best quality logo you deserve for your business.
If you want to see get in touch to chat, email me sinead@designerg.ie
I promise to respond to your needs and leave you excited about your logo and your business.