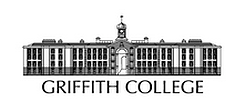 Griffith College Prospectus, Brochures, Sales Folders and Flyers
I was tasked with creating the Griffith College Prospectus. This was a mammoth job working with several Faculties and Department Heads and streamlining the poject so it worked with their new brand and advertising campaign. The result was a wonderful pice of typsetting combined design technique.
My other projects include Brochures and Sales Folders that need to be functional but also fall within the parameters of the brand.
Griffith College also operate a Language School. I was asked to create brochrues for overseas agents their Schools in Griffith Dublin, Cork and Limerick.
Learn more about Griffith College. Click here!
I had the pleasure of working on various design projects with external agencies on the look for the overall communications. This was a project known as The Secret is Griffith College, developed by Bloom Advertising